Your information is safe with us!
Terms of Use and Privacy Laws
DegreeQuest respects your right to privacy and, therefore, presents this statement so that you understand the Terms of Use of the information that we request from you.  The information you submit is subject to this Terms of Use and will not be used except as specified herein. 

Personally Identifiable Information (PII) is information that may identify you as an individual and includes your name, address, telephone number, e-mail address, and other information that is connected with you personally. In order for us to provide this support, we request this PII so that we may provide the best support possible to the students we support at no cost to them.  This information is and always will be safeguarded and never made available to the general public or to other organizations or vendors of any sort.

Information that is not considered PII is when aggregate information regarding a broad range of students is collected for marketing analysis.  This may include, as an example, analysis of military students across the 12 branches of the Active and Reserve Components of the military or activity in general from each of the major corporations supported by DegreeQuest.  This information is not specific to individuals, but collectively as a group examined for marketing purposes.
With regards to DegreeQuest ®, our support is free to those who desire to use our state-of-the-art degree exploration system.  This is made possible because we have a number of our participating Colleges for Working Adults (CWAs) which subscribe to DegreeQuest and have the ability to access your electronic education record directly on a case-by-case basis when permission is granted by DegreeQuest on your behalf, providing you with degree plans that have the highest level of accuracy. Because this reduces the workload on our staff, we are able to offer this free support simply based on the funds provided for them to use DegreeQuest as they desire.  You will also be asked the subject you are interested in for your major … select as many majors as you desire.  With DegreeQuest, we can empower you to explore where you may stand toward thousands of degrees from accredited colleges and universities across the nation, as explained below.
is important to us that you receive the most accurate information possible so that you can make an informed decision regarding your educational future.  As such, we will contact a few of the colleges and universities that most closely matched your unique academic accomplishments, needs, goals, and desires and ask them to merge your credit into the degree requirements of their degree and send you a detailed degree plan showing which requirements appear to be met and which still remain to accomplish your goal with their institution.  (Of course, this is an unofficial evaluation pending receipt of your official transcripts from their original sources on admission.)  In order for us to do so, we need your permission to allow the colleges and universities that best match your credit to access your digital education record in DegreeQuest ®.  We honor the educational information of those whom we serve and it must be protected in accordance with the Family Education Rights and Privacy Act of 1974, 20 U.S.C. 1232g and 34 CFR Part 99.31, 99.36, and 99.37.  Rest assured that your information is  safe with us, as we will only share it with our participating colleges and universities to help you achieve your goals.  Because we rely on our participating colleges and universities to access our system to support students, we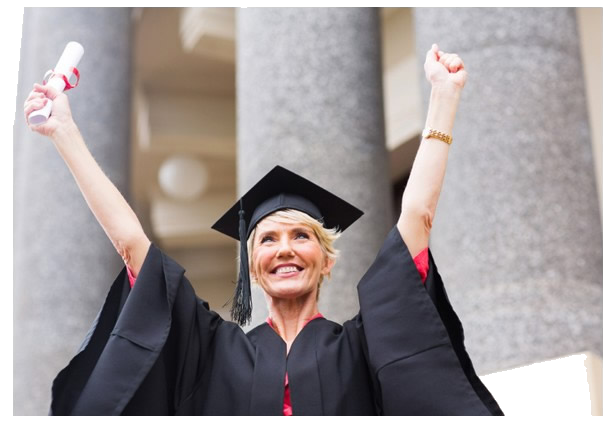 make no warranties that the services will be timely (as it is up to the participating colleges and universities to set aside time to engage with prospective students), uninterrupted, or error-free (as the degree plans are unofficial until your original transcripts have been received and accepted by the college or university of your choice on admission).  Absolute assurance of academic standing can only be made after each student has officially matriculated with the college or university of his or her choice. 
You may have heard in the media of aggressive colleges and universities that contact prospective students more than a dozen times a year in an attempt to sign them up for their programs of study. That will not happen with this DegreeQuest initiative. You will not have to worry about being contacted time and time again by our participating colleges and universities. They each agree to limit their contacts with prospective students to explain why their program of study matches your academic accomplishments and goals and you should consider them to be your future educational provider. If you do not respond to their information provided by them, they may not be allowed to continue to send you unsolicited information or they may be at risk of being barred from receiving federal tuition assistance in the future. Of course, if your response to their communication with you indicates that you desire further information from them, they are allowed to communicate with you as much as you desire.
If you are located outside the United States of America, the information you entered is considered as accepted by our organization within the United States.  By using this website, you consent to the applicable laws of the State or Florida.
Changes to this Policy
We reserve the right at our sole discretion to change, modify, or alter this Terms of Use.  However, the Terms of Use in effect at the time in which you submitted the information to us shall stand in effect and not be affected by future changes.  As such, we recommend that you retain a copy of this for your records by printing this page, should you desire such.